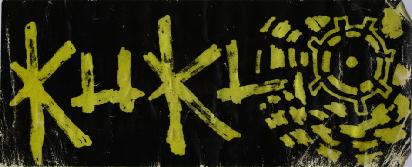 There are pages out there that is far better looking and gives more information than this.This little thing has been out there in various formats since about 1994 so ...
Try Sally Thurers page at:
http://www.columbia.edu/~smt19/kukl.html.
Southern Studios also have some excellent stuff over at:
http://www.southern.com/southern/band/KUKLL/
KUKL history and discography.
This short history is taken from Per Starbacks translation of the KUKL entry in "Bonniers rocklexikon" (1987) and posted to the "old" sugarcubes list (in the sugarcubes archives list.1).
KUKL. Icelandic group created in Reykjavik in August '83 with Einar Örn Benediktsson (vo, tp) (earlier in Purrkurr Pillnikk); Björk Guğmundsdottir (vo) (earlier in Tappi Tikarrass); Guğlaugur Kristinn Ottarsson (el-g) (earlier in şeyr); Birger Mogensen (el-b) (earlier in Killing Joke) ; Einar Melax (keyb) (earlier in Van Houtens Koko) and Sigtryggur Baldursson (dm) (earlier in şeyr). Originally the group was a project based on an idea by among others Asmundur Jonsson from Gramm Records in Reykjavik. They debuted live in Icelandic radio and played at a "We demand the future" festival in Reykjavik 9/20/83 before The Crass. Later they played with Psychic TV and in England with Flux of Pink Indians and others. Their debut album was, recorded in London in January '84. Later the same year they played at concerts in several European contries. In June '85 at the Roskilde Festival [in Denmark] and later the same year at concerts in Iceland they played with Megas, the "grand old man" of Icelandic rock. At the turn of the year '85/'86 they released 2, produced by Penny Lapsang Rimbaud (Crass) in London, where Einar <"O>rn studies at London Polytechnics. Kukl's music is complex and rhythmic, and a mixture of punk, rock, jazz, and more experimental music, with the lyrics sometimes in English, and sometimes in Icelandic. A powerful and personal band combining qualities from three important groups in Icelandic rock from the beginning of the eighties.
From RECORD COLLECTORs Bjork-article (RECORD COLLECTOR No 175 March 1994, p 40-46: Davies, Andy. The secret history of Bjork) :
After Tappi's demise, Bjork joined forces with Purrkurr Pillnikk's Einar Orn and Theyr's Siggi to form KUKL (imagine the word 'cook', with an additional 'l' stuck on the end, pronounced in a broad Scouse accent!). The name translated as 'Sorcery', and the band's ethos questioned Iceland's establishment, and the way it appropriated elements of the country's pagan past to shore up its own belief systems. The critisism worked both ways, of course, and it can't have been a surprise when, following a TV appearance where the now anti-establishment Bjork appeared with her hand bandaged after a minnor accident, malicous gossip-mongers spread the word she was concealing the scars of drug addiction. Built upon the noisier elements of the three core members previous bands, Kukl plied a domineering all-out punk-goth racket, indebted, stylistically at least, to the Fall, Killing Joke and Siouxsie and the Banshees (although there will be those in Iceland who'll dispute any Killing Joke influence!). With each new enterprise came a new level of success, and with Kukl, Bjork and her future Sugarcube partners Einar and Siggi achieved a degree of international recognition. This resulted in two albums, "The Eye" and "Holidays in Europe (The Naughty nought)", being issued, via the anarchist Crass label, in the UK. While "The Eye" barely acknowledges that Kukl's lead singer and the Bjork of "Debut" fame are one in the same person, some of those delightful yelps of glee and characteristic touches of vocal magic make an early appearance on "Holiday in Europe". Both LP's were re-pressed at various intervals throughout the 1980s, after the international success of the Sugarcubes. Kukl lasted until 1986, when after three years of anorcho-punk sincerity, Bjork, Einar and Siggi split the band (leaving half-a-dozen tracks unreleased) to form a new group whose concept would turn Kukl's political activism - and eventually the U.K. indie scene - on its head. Their new trademark would be nothing more radical than "mischievous fun", and their new name name was Sykurmolarnir, or Sugarcubes.
Icelandic television made a KUKL special in 1986, it was re-broadcast on 15.4.94 and should now be avalaible on video from BAD TASTE. This program supposedly created some uproar in Iceland over Bjorks naked, very pregnant belly. A short snip was shown on a Bjork special on norwegian TV show "U" (KUKL doing Songull) 8.12.93. Videotapes of the complete televisionshow is circulating. Ask about on BEP-L!
SINGLE
Söngull
; Pökn fyrir byrjendur 7"
GRAMM 17
Söngull is a version of Dismembered from The eye. With icelandic lyrics and guitar instead of pipes/bells playing the intro. (Also a little bit faster?)
This sleevepicture is via the excellent Southern Studios site:
My personal copy of the single (bought at GRAMM in Reykjavik december 84) looks like this: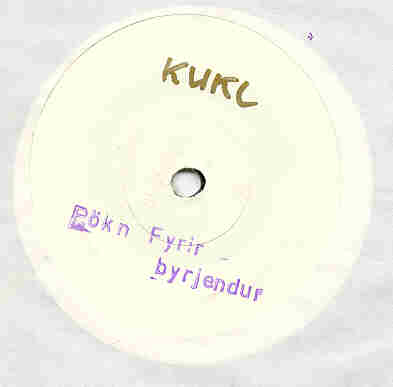 ALBUMS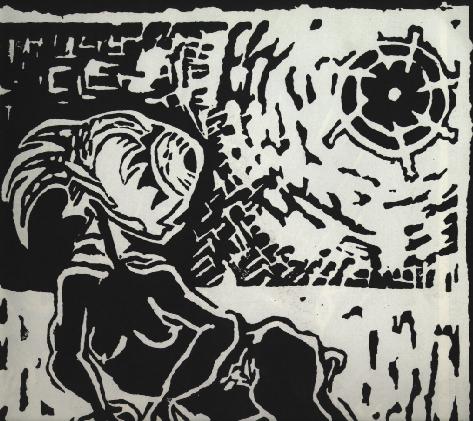 1. The eye
/ K.U.K.L.
CRASS Records 1984/1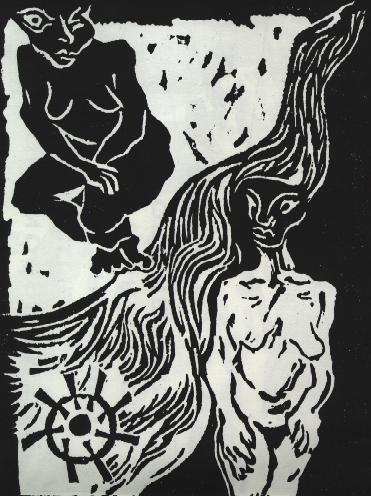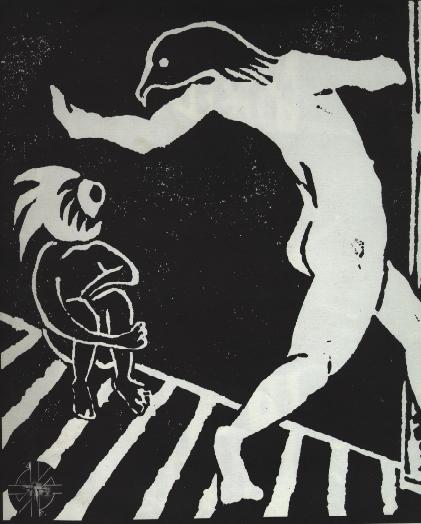 It's difficult establishing the exact order and name for the songs on this album. I'm certain of A1 and B1, as for the rest ... :)
A: Dismembered ; Seagull ; The spire ; .
B: Assassin ; Anna ; Moonbath ; ?.
Some lyrics are printed on the foldout poster sleeve. As the singing is a mix between english and icelandic and only some of the words are used, its very hard to say what is what on the actual record.
A video was made for "Anna".
2. Holidays in Europe
: (the naughty nought)
CRASS Records 4 1985
A: Outward flight (Psalm 323) ; France ( A mutual thrill) ; Gibraltar (Copy thy neighbour) ; Greece (just by the book)
B: England (Zro) ; Holland (Latent) ; Aegean (Vials of wrath) ; The homecoming (The night)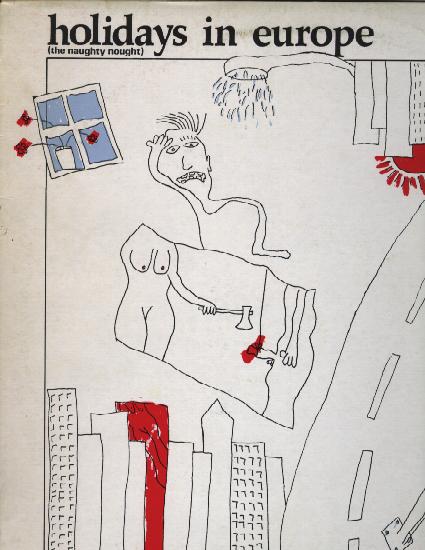 Pre-release name: The naughty nought.
Crass had a special affinity for Iceland: KUKL being the only band besides Crass themselves to appear more than once on the Crass label, and Reykjavik being the only place OUTSIDE of England that Crass ever played (20.9.83 "We demand the future"-festival in Reykjavik). Personal contacts between KUKL/GRAMM and Crass members were frequent. Videos exist for "Outward bound" and "France".
3. KUKL A PARIS 14.9.84
. - 1 cassette. - (V.I.S.A. Rebel Flux No. 3)
---
[Cited from a collection of press-clippings distributed in connection with their concert at Austurbajarbio (Reykjavik) 21 dec. 1984.]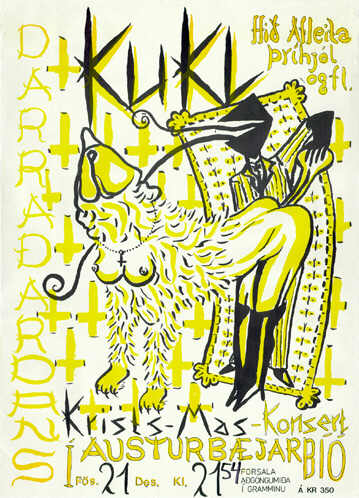 "FLUX OF PINK INDIANS/D & V/KUKL/CHUMBAWUMBA. Conway Hall. Such stuff as legends are made of - REALLY. A concert that put a final nail in the coffin of plastic-pose-punk-piss, featuring four of the five best anorcho-punk (sorry about the label!) bands in the world. A shame that Crass weren't there as well to complete the power ... Kukl are an Icelandic group, which immediately puts them into a fairly select family: even if there were other Icelandic groups to make comparisons with (well-known journalist's pastime), it would be impossible. Venomous and humorous by turns, they possess a peculiarly charismatic frontsperson; if you don't manage to see them before they depart on an European tour, buy their indispensable LP 'The Eye' on Crass records and bemoan what you've missed. Fascinating!"
SOUNDS 3 sept. 1984
"Things brightened up there with Iceland's finest (albeit unopposed) K.V.L.K delivering a spunkish drunkish short set of Bow Wow Wow sounds, the words coming from the plainest boy in history and a girl with the most unsightly pageboy cut since Skafish. The guitar was groovy and the drums were bendy, and I could have listened to them for at least another 12 years if duty had not called".
NME 6. oct. 1984
"PANDORA'S BOX FESTIVAL Rotterdam. Goodness gracious, great balls of fire - it's KUKL! Boy and girl charging around, shouting and screaming, while four others contrive to make one hell of a racket, lapsing into occasional bouts of melody. I'm not sure that it was their intention, but I found them jolly entertaining, and they should be seen if only to witness the extraordinary performance of that manic little girl"
SOUNDS 13 oct. 1984
REVIEW OF 'THE EYE' IN SOUNDS 3 SEPT. 1984 BY TIBET [David T. from PSYCHIC TV, CURRENT 93?]
KUKL
'The Eye*
(Crass 1984/1)
*****
EFFORTLESSLY DETERMINED, Kukl release an LP which trashes the ho-hum accusations of the Crass-Records-all-sound-the-same ilk. 'The Eye' steps boldly out of the supposed confines that the Crass label is meant to impose (confines is meant to exist only in the minds of those looking for reasons to criticise), and drags the listener into a glacial world of confused emotion and shattered visions. Side one: 'Assassin', highkicking and jackbooting through lengthening horns and scarred surfaces, a 'rock' song being slowly demolished, ending up in screams. Reminiscent ever so slightly of 'The Scream', primarily I suppose because of the howling vocals and decaying metal. 'The Eye' easily passes beyond that as there is not a hint of contrived control or predetermined melodramatic effect. 'The Spire' offers images of Holy Mother Church, with an atmosphere that contradicts the phrases lingering just behind: "I know the power/Pointing up/Raised fist/Exploding penis." And in the background, there is the shadow of menace. "On the other side of a big river/Lies her own body" ('Anna'): reminding me of 'Steven' from Alice Cooper's 'Welcome to my nightmare' LP, all haunting vocals that breathe a hopelessness from foreign towns. It seems pointless (patronising?) to mention that they're from Iceland, but it helps to give a pointer towards this desolate, clinging mood that informs the LP: "Dismembered/Hugging shadows/...Play with me" ('Dismembered'). An amazing record, and a swift plug too for the incredible cover by Dada Nana, and for the label. Crass Records who refresh the minds that other labels only brainwash ...
TIBET