Compilations/Collaborations/Whatever Else
Listed in no particular order ...
Patrik Fitzgerald Song Book

Haven't seen this. But according to pictures of the cover it contains: "Music and words for first two EP's: 'Safety pin stuck in my heart' and 'Backstreet boys'" (Small Wonder Records - exhibition, gig and talks)

Safety Pins, Secret Lives and the Paranoid Ward: The Best Of 1977-1986

Cherry Red 2014 (DBRED644) 52 track, 2 CD compilation. Compiled with input and sleevenotes from Patrik.

Disk one: 1. SAFETY PIN STUCK IN MY HEART, 2. BANGING AND SHOUTING, 3. WORK, REST, PLAY, REGGAE, 4. SET WE FREE, 5. OPTIMISM/REJECT, 6. BUY ME SELL ME, 7. THE LITTLE DIPPERS, 8. TRENDY, 9. BACKSTREET BOYS, 10. BABYSITTER, 11. IRRELEVANT BATTLES, 12. CRUELLEST CRIME, 13. THE PARANOID WARD, 14. THE BINGO CROWD (INSTRUMENTAL), 15. LIFE AT THE TOP, 16. RAGGED GENERATION (FOR REAL), 17. LIVE OUT MY STARS, 18. GEORGE, 19. ALL SEWN UP (DEMO VERSION), 20. IMPROVE MYSELF (NEW VERSION), 21. THE BINGO CROWD, 22. AS UGLY AS YOU, 23. ALL MY FRIENDS ARE DEAD NOW, 24. ADOPTED GIRL, 25. WHEN I GET FAMOUS, 26. LITTLE FISHES, 27. ALL THE YEARS OF TRYING, 28. MY SECRET LIFE, 29. CONVENTIONS OF LIFE.

Disk two: 1. MRS AND MRS, 2. ANIMAL MENTALITY, 3. TONIGHT, 4. POP STAR POP STAR, 5. ONE LITTLE SOLDIER, 6. PERSONAL LOSS, 7. STRAIGHT BOY, 8. WORLD IS GETTING BETTER, 9. SOLVE, 10. GIFTS AND TELEGRAMS, 11. PUNCH, 12. ISLAND OF LOST SOULS, 13. SMILE, 14. FAMILY OUTING, 15. DOMESTICATION, 16. MY PERFECT WORLD, 17. A LIFE SENTENCE, 18. DOWN, 19. DRIFTING TOWARDS VIOLENCE, 20. ONE BY ONE, 21. PUTTING WINGS ON AEROPLANES, 22. DOWN MEXICO WAY, 23. POOR JOHN,

They

This is a bit dubious, but Patrick (sic.) is credited as co-producer of Anne Clarke's poem Them. Available as a B-side on the german pressing of Anne Clark's Heaven. 7" and 12" on the german 10 Records (i.e. Virgin) in 1985.

Patrik says:

the backing track has now been used as the backing track for a pf song (as opposed to poem with music) called unaware. anne's poem also existed as a track called cane hill.

The problem is that the track doesn't sound like Unaware! The poem was also used in another track called Cane Hill that John Foxx produced backing music for. Further research is necessary, but we will keep it for the moment.

First a german press-release for Heaven:

The 7" : Catalog #107 737-100

The 12" : Catalog #602 046-213

All scans courtesy of Torgeir Lund

See also: discogs.com

In an email dated Oct 8 2010 Patrik solves the riddle:


i have now heard the b side of anne clark's virgin 10 germany single 'heaven'.
it is credited as being called 'they' but is actually the track toro which
was on the artists for animals 'abuse' lp. the lp abuse was i think
re-released under another title possibly with additional tracks.


All sewn up : a tribute to Patrik Fitzgerald

Available as 2xCD and double vinyl from Crispin Glover Records

Let Torgeir talk you through the tracks over at Emmeret Trues Music that I like.

Track listing CD:

Disc 1:
1: Motorpsycho (NO) feat. Jello Biafra (US) - Punch
2: Terry Lee Hale (US) - Laughter Far Away
3: Max Lorentz (SWE) - Live Out My Stars
4: Milk Kan (UK) - Ragged Generation
5: Israelvis (NO) - Safety Pin Stuck In My Heart
6: Betong Hysteria (NO) - Banging & Shouting
7: Seven (NO) - Trendy
8: Jim Jasmine (UK) - Little Fishes
9: All Trouble (NO) - How the Fuck?
10: Sister Rain (NO) - Animal Mentality
11: Lez Marwick (UK) - Tonight
12: Benjamin Zephaniah (UK) Work. Rest. Play Reggae
13: Attila the Stockbrocker (UK) - BackStreet Boys
14: POG (UK) - One Little Soldier
15: The Reilly Express (NO) - Island Of Lost Souls
16: Bladed (NO) - Set We Free
17: The Legend! (Everet True) - When I Get Famous
Disc 2:
1: Dog & Sky (NO) - One By One
2: Jackie Leven & Michael Cosgrave. (UK) - Shadow Of A Man
3: BC (NO) - Unaware
4: Geoff Berner (CAN) - All The Years Of Trying
5: The School (No) - Bingo Crowd
6: Try Love & The Taxis of Evil (NO) - As Ugly As You
7: Kevin Hewick (UK) - Personal Loss
8: Hook Line & Sinker (NO) - Optimism / Reject
9: Liliedugg (NO) - No Fun Football
10: The 3rd & the Mortal (NO) feat. Attila the Stockbroker (UK) - Paranoid Ward / All My Friends Are Dead
11: Thomas Robsahm (NO) feat Vera & Jara (ICL) - Improve Myself
12: Monolithic (NO) - All Sewn Up
13: Max Lorentz (SWE) - Cruellest Crime
14: Motor Incubator (NO & UK) - Same Coin, Different Madness

Takk som byr: 2005-2007

Crispin Glover Records sampler 2007

PF: Pop Star, Pop Star (Live at Credo)

'Voices from the wash-house' : poems with music / Jessica Denton

Privately published CDR 2007. Order via her MySpace-page.

Tracks:

You are/Oh * * * */Some days/Part-timer/Summer story/Edge of ruin/My audience/The make-do girl/Safe and far away/Standing in the centre/Sadness fades away/Another summer story/Jack/The cold/Mr and Mrs/Take me back : J.D. mix/Take me back : P.F. mix

"Some days", piano Janet Holm (Bach). "Part-timer", Jessica Denton. "My audience" (Chopin). "Jack" (Faure). Other music/sound: Patrik Fitzgerald. Produced by J.D. and P.F.

The track Mr and Mrs is available on the compilation Genotypes.


CD GEN 030
Genetic Music, 2010


POEMS 1979. Book.

I'm a librarian, here's the details in marc-format from my collagues at the British Library.


FMT 	BK
LDR 	      am a2200265ui 4500
001 	007440687
008 	790720s1979    enkac  ||     000 p|eng  
015 	|a GB7923440 |2 bnb
020 	|a 0906698006 (sd) : |c £0.75
040 	|a Uk |c Uk
08204 	|a 821/.9/14 |2 18
08204 	|a 821/.914 |2 19
1001 	|a Fitzgerald, Patrick, |d 1956-
24500 	|a Poems / |c Patrik Fitzgerald.
260 	|a London (59 Watney St., E1) : |b Tower Hamlets Arts Project, |c 1979.
300 	|a [28]p. : |b ill., ports. ; |c 21cm.
653 	|a Poetry in English |a 1945- |a Texts
7102 	|a Tower Hamlets Arts Project.
85241 	|a British Library |b HMNTS |j X.909/43661
SYS 	007440687


Contents:


THAP (a short intro on Tower Hamlets Arts Project and PF)
The crass introduction (short introduction from PF)
Make it safe
Underground (a short 1 page prose-text)
A quite life
The Alien in Tottenham Court Road
Do something constructive
Boots and black gloves (police)
The pigs at gigs (bouncers)
Babysitter
Behind my curtain
Jarvis (another short prose-piece)
All the splattered children
The paranoid ward
Robotic
I wandered lonely
Your claustrophobia
Nothing to do
Politicians
The other man they called 'the ripper' (another short prose-piece)
Little image games


Ludd's Mill. No. 18. fanzine

DARLINGTON, Andrew. (Ed.)
Eight Mile High Leisure Industries, Ossett. n.d. (c.), 1982.
Description: A4. 34pp. Profusely illus. VG-. ISSN 0047 5157 Contents include: Lou Reed interview with William Burroughs; contributions by Poison Girls, Patrik Fitzgerald, Allen Ginsberg, Ivor Cutler

TREASURES FROM THE WAX MUSEUM

Red Flame Records 1993. RFCD7. CD.


New tracks: Volcano/One By One/The Early Warning/Thee Serving Classes

[includes three PF lyrical impressions in the booklet]


1.  	Volcano
2. 	Family Outing
3. 	One By One
4. 	Tonight
5. 	My Perfect World
6. 	Drifting Towards Violence
7. 	Grey Echoes
8. 	My Death
9. 	Island Of Lost Souls
10. 	Mrs. And Mrs.
11. 	One Little Soldier
12. 	Exist
13. 	Personal Loss
14. 	World Is Getting Better
15. 	Solve
16. 	The Early Warning
17. 	Smile
18. 	Gifts And Telegrams
19. 	Punch
20. 	Domestication
21. 	Working Hu - Man's Casino
22. 	The Serving Classes


TONIGHT/GIFTS AND TELEGRAMS/DRIFTING TOWARDS VIOLENCE

Red Flame Records 1992. RFCD6. CD.

(was it indeed released? seems that it coincides with RFCD7).

SAFETY PIN STUCK IN MY HEARTH - THE VERY BEST OF ...

Anagram Records (division of Cherry Red Records) 1994. CDPUNK31. CD.

31 tracks: includes the original versions of the 18 tracks of (01)-(03), and (very good) remakes (PF and a guitar) of 13 songs from (04)-(08) [i.e. includes the b-side of (08)].
*Excellent* sound quality and moving liner notes from the man himself.

ANNE CLARK - THE SITTING ROOM

Red Flame Records 1982. RF10. miniLP. (or in the 'Trilogy' AC compilation CD: Ink Records 1986. INKCD001 or the CD issued by Beehive Records 19??. BEECD3)

The 'Trilogy' liner notes credit Patrik for "guitar/inspiration"
The Beehive reissue credit him for "keyboards and for being Patrik" It also features the members of Breathless (to be)

ABUSE - ARTISTS FOR ANIMALS

Slip Records 1986. ??????. LP. The Liberator- Artists for Animals compilation 1988 Dec

Re-issues:
LP: 1988.12 UK Artists for Animals (Deltic) AFA 004 (DELT 3)
LP: 1988 US Slip SD003
CD: 1989 UK Deltic (Artists for Animals) DELT CD3
CD: 1991 JP Jimco JIM-0039
Patrik, along with Red Anne Clark, contribute a chilling track to this compilation LP - "Toros"
Dreams and Desires
Cassette 1984, Pleasantly Surprised 006. One track: Smile (from Drifting towards violence). More, and more.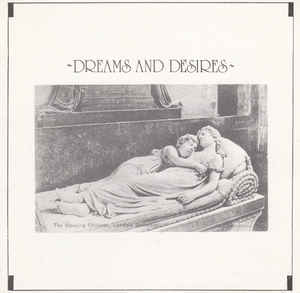 WNW6 - MOONLIGHT RADIO
Armageddon 1981. MOON1. LP.
The record collects together tracks from several bands who had in common that they had played at the Moonlight Club in the early eighties.
PF GROUP one track: Breathing's painful.
Guitar, synthesizer: Colin Peacock
Saxophone: Lester Broad
Vocals, guitar: Patrik Fitzgerald
FEAR AND FANTASY
Armageddon 1982. MOON2. LP.
PF GROUP one track: One by one.
Vidar: I had both Moonlight club albums, bought more because I saw Crass there in 1979 than wanting to be a Patrik-completist. The albums were not that good so I sold them ... I regret it now though :)
THE LEGEND: 73 IN 83
Creation 001. 7"
Tracks:
73 In 83/You (chunka chunka) Were Glamorous//Melt The Guns
PF plays guitar on this. [Or did he? According to a blogpost Everett True (who is The legend) wrote for the Village Voice February 12 2008, he played piano...]
PF appeared with his guitar on three John Peel sessions:
(1) Broadcasted 15/02/78
Don't Tell Me Because I'm Young
Bingo Crowd
Little Dippers
Safety Pin Stuck In My Heart
Backstreet Boys
PF Guitar & Vocals. Recorded Maida Vale 4 08/02/78.
Producer: Malcolm Brown, Engineer: Nick Gomm.
(2) Broadcasted 31/07/78
No Fun Football
Little Fishes
A Mixed Kid
The Sound Of My Street
Jarvis
PF Guitar & Vocals. Recorded Maida Vale 4 19/07/78.
Producer: Bob Sargeant, Engineer: Nick Gomm.
(3) Broadcasted 17/04/79
Suicidal Wreck
Improve Myself
Tonight
All The Splattered Children
Dance Music/Late Night
PF Guitar & Vocals. Recorded Maida Vale 6 10/04/79.
Producer: Trevor Dann, Engineer: Mike Robinson.
Information from the book In Session Tonight by Ken Garner which details all the recordings made for the BBC John Peel Shows. Transcribed by the kind Tim Simpson.
(In Session Tonight published by BBC Books 1993 ISBN 0 563 36452 1)
I recorded most of the third session, minus "Tonight", on the night it was broadcast. The version of "Suicidal wreck" used on on Dark Side of The Room is from this recording.
We have most of all three sessions (misses two songs from the second session: "The sound of my street" and "Jarvis"). It should be possible to find at least the 1st and 3rd session on YouTube,
The 1st session on YouTube:
In 2012 a recording of the whole 3rd session turned up on YouTube:
The songs "Tonight" and "Island Of Lost Souls" are featured in the film 'Rough Cut And Ready Dubbed'. Patrik plays guitar, Colin Peacock synth. Patrik wears a very catching hat :).
1981. 56 min documentary produced and directed by Dom Shaw and Hasan Shah. Video 2004 www.anonymousfilms.co.uk. On DVD in 2005.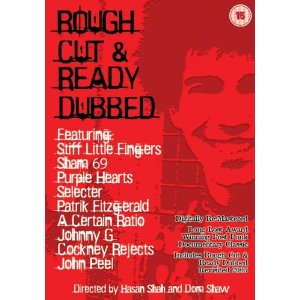 Boardwalk


Ikon video 1995. IKON 35.

PAL format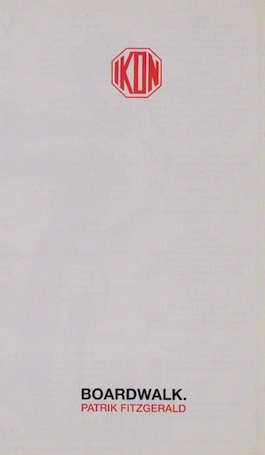 Tracks:
Part 1 - The soundcheck
(Part of) Aspettando Il Verdetto, Poor John, Down 'Mexico way', Rooms, Gifts & Telegrams, The Company Bus.
Part 2 - The performance
I'll Teach You How To Cry, Poor John, Island Of Lost Souls, Down 'Mexico Way', Palace Of Dreams, Family Outing, The Company Bus, Aspettando Il Verdetto, Gifts & Telegrams, Grey Echoes.
The enclosed video is a live performance by Patrik Fitzgerald, for 'Artists for Animals', in 1986 at The Boardwalk, Manchester. Filmed in one-take with no editing, the video starts in silence followed by the soundcheck and through to performance. Playing an acoustic guitar to an unseen audience, the performance gives the impression that Patrik is playing his moody, poignant songs on a one to one basis with the viewer. The material included does not represent the whole spectrum of Patrik's work, but is an excellent introduction".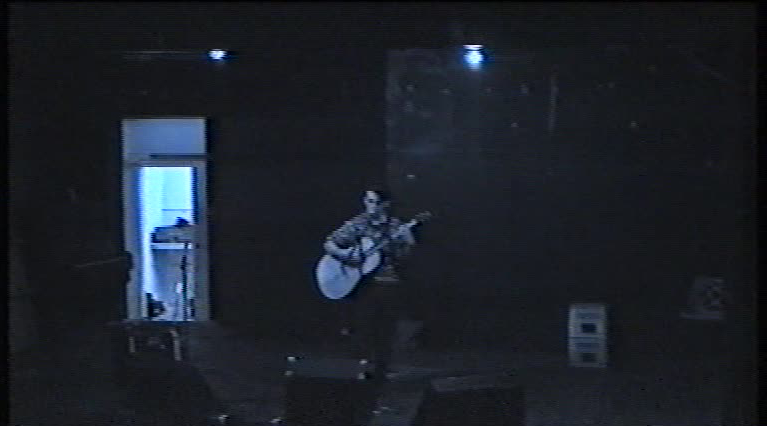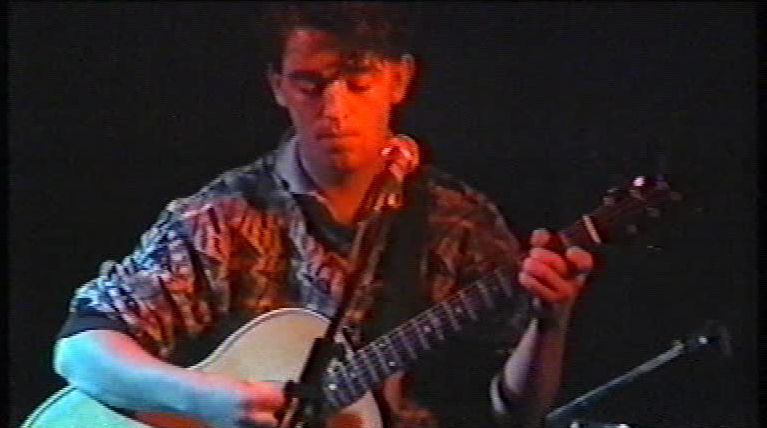 Goodbye To All That : a Red Flame/Ink Records Compilation (1982-1985)


LP Red Flame RF 45, 1985

Track A3: Island Of Lost Souls
Ashes and Diamonds (The Underground Educational Entertainment Program 2)
LP RED INK 1, 1988(?)
Track A5: Drifting Towards Violence